Real-time Talent Intelligence
Instead of typing notes, automatically record, transcribe and search phone interview data.
Call Recording
Never forget a conversation.
Audio Transcription
Search the conversation or just the answers.
Audio Highlights
Create audio clips of answers during the call.
Search Everything
Search live phone interview answers, key moments and the call transcription.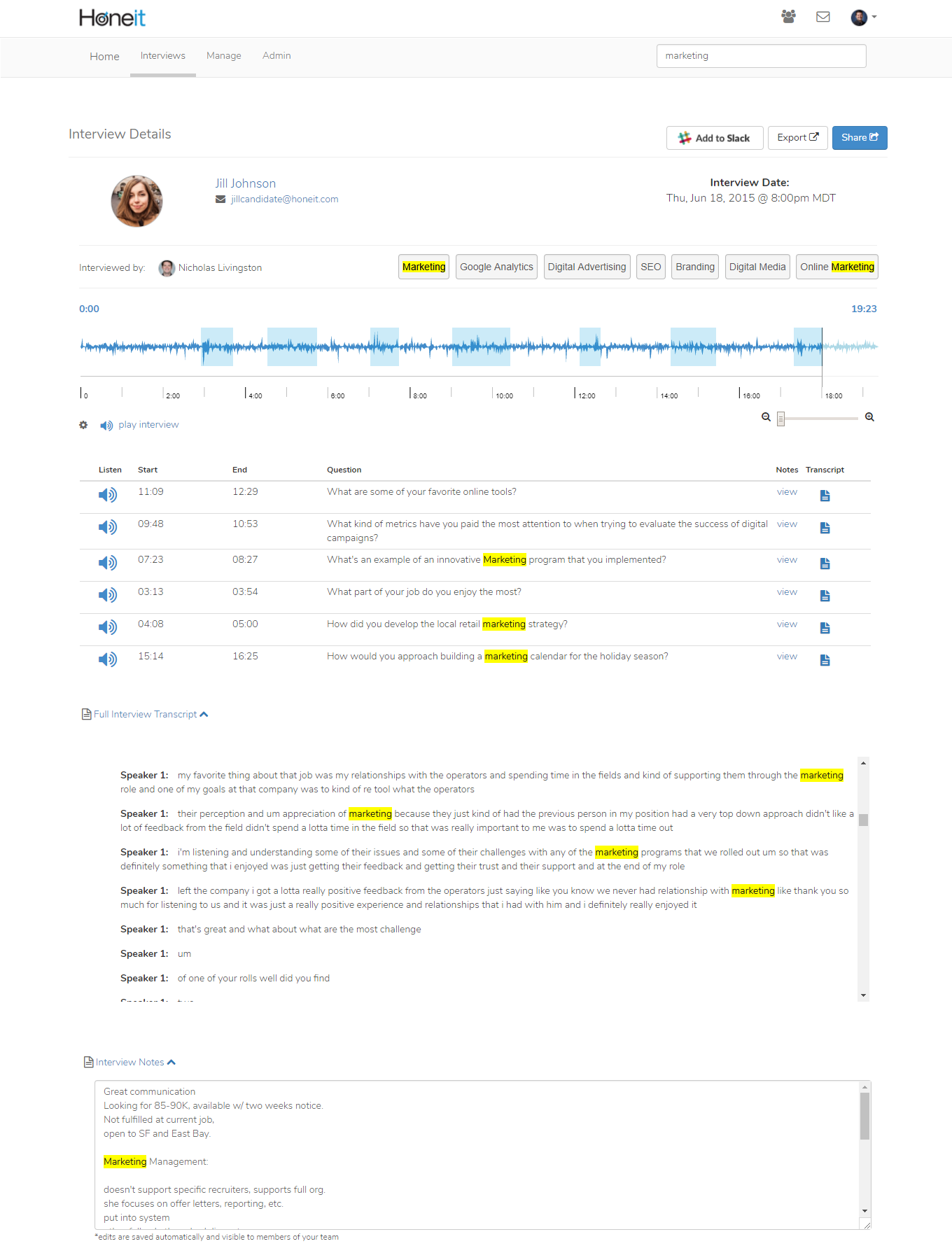 How it works:
The Honeit digital phone interview platform streamlines three critical steps in every recruiter's day to day – scheduling calls, talking to candidates and sharing insights with hiring teams. Honeit interview technology makes it easy to record, transcribe and share live candidate answers and insights during natural (two-way) phone conversations. After the phone conversation, recruiters can select key moments or interview highlights to share with their team or with hiring managers – to quickly ensure quality, reduce steps and accelerate on-site interviews.
Phone conversations are synchronized with our real-time interview dashboard that only the interviewer sees. To subjects and candidates, it's no different than a regular two-way phone conversation. Instead of scribbled interview notes, live interview answers can be easily captured, transcribed, searched, analyzed and shared with colleagues or clients to make better decisions, faster.
Structured Phone Interviews:
Custom Interview Guides help every recruiter perform expert level phone screens for any skill-set, function or industry. Guides can be edited or created from scratch for any requisition and shared among your recruiting team. For the above interview, the Recruiter utilized a QA Automation Engineer interview guide from our interview library.
After the Conversation:
With the click of a button, all of this rich interview data can be stored in your existing ATS or CRM. For every interview, you have the ability to add or edit any additional clips or notes. You have complete control of the data you choose to save or share.
We're excited to introduce 21st Century Phone Interviews for better hires, faster.