Introducing Data-Driven Interview Communication. 
Our initial conversations with job candidates are the most important step of the hiring process. However, phone interviews are still "off-line" and the live interview data and candidate insights are lost forever. Share unbiased interview insights to improve communication and make better decisions, faster.
Natural (2-Way) Conversations
Relaxed-fit phone interviews for recruiters and job seekers. As simple as a regular phone screen, with incredible upside.
Record Live Answers
Use optimized interview guides from our library or create your own. Ask in-depth questions and capture a candidate's answers in real-time.
Share Highlights
After the call, easily share audio highlights with team members for collaborative hiring decisions, without misinterpretation & bias.
Sync Your Candidate Phone Screens
Synchronize your daily phone conversations with our real-time interview dashboard. Capture live answers and insights from your calls, to never forget a candidate's personality, motivation, enthusiasm or answers to technical questions.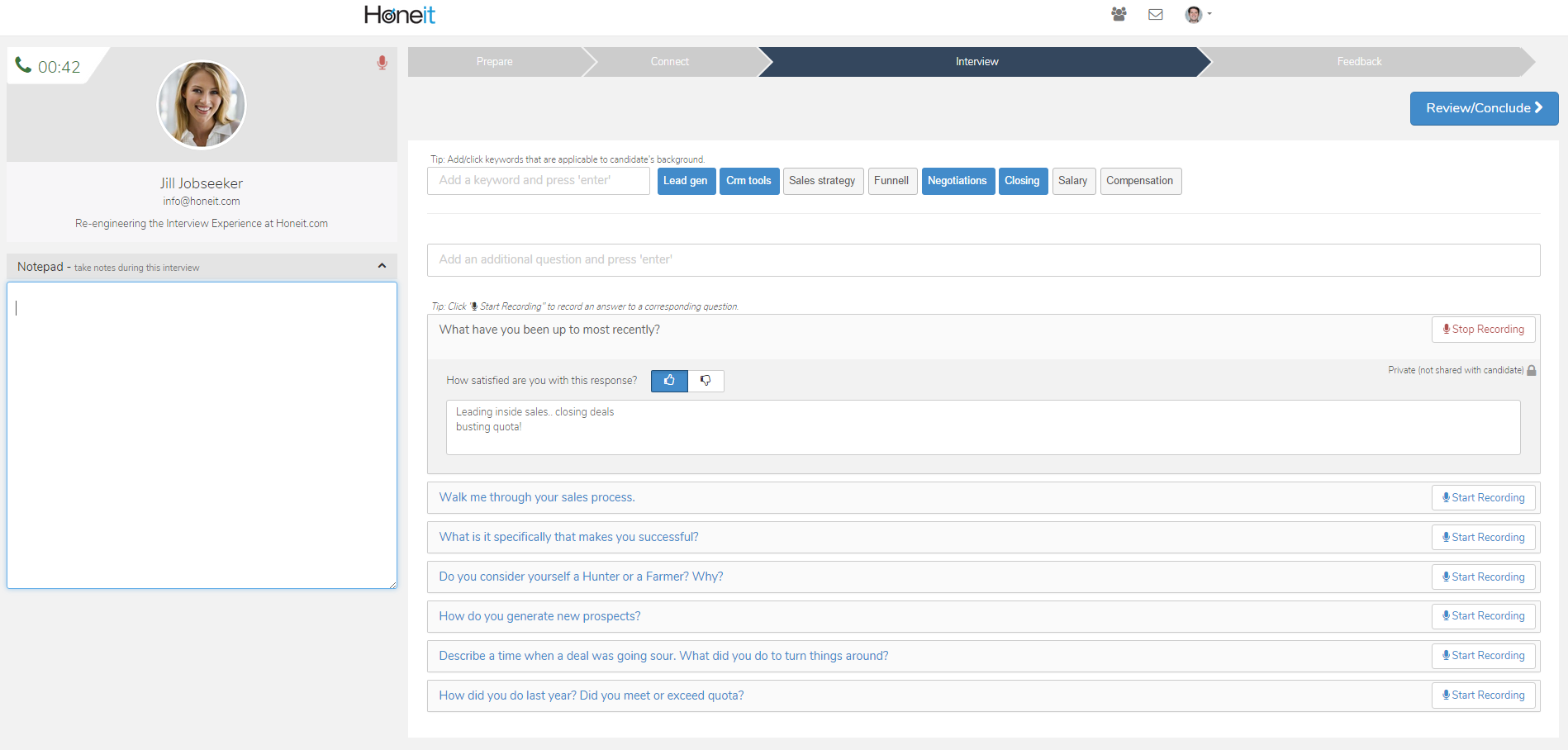 Live interview technology that works with every ATS & CRM.
We've built the product from the ground-up, to maximize a recruiter's phone interview workflow and easily integrate with existing systems.
Convenient Conversations
Unlike video interviews, phone conversations are convenient to job seekers and introduce less bias.
Delight Hiring Managers
Quickly build trust by performing exceptional phone screens and sharing evidence, instead of opinions.
Interview Optimization
Perform structured technical and highly specialized interviews. Dig deep and never forget a detail.
ATS & CRM Integration
Easily export all the rich phone interview data into your existing ATS or CRM, through a secure URL.
Share Interview Insights
Capture unbiased interview data and audio highlights to share with fellow recruiters, hiring managers and clients.
A Better Interview Experience
Save candidates and hiring teams time and frustration by accelerating the interview experience.
Phone Interview Collaboration
We've built our technology from the ground up to play nice with every existing ATS or CRM.
Now We're Talking!