After your phone interview. We make it easy for you to choose which audio highlights (candidate's answers) you'd like to share with hiring managers. You can introduce one or multiple candidates and quickly send them to multiple hiring managers (or clients) through the system.
Step 1) Go to 'Candidates' tab. Check the box next to each candidate you'd like to submit.
Step 2) Click the blue 'Action' button at the top of the page.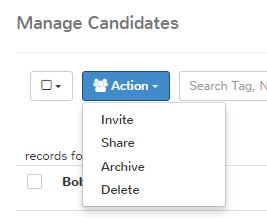 Step 3) Select the Audio Highlights (the candidate's answers from your live phone interview) that you'd like to include.
Step 4) Add the Email Addresses of Hiring Managers or multiple clients. Each person receives a separate email address. (no cc or bcc). Write a custom message or use an existing email template to accelerate the process.
That's it. Below is a video walk-through of the steps above.