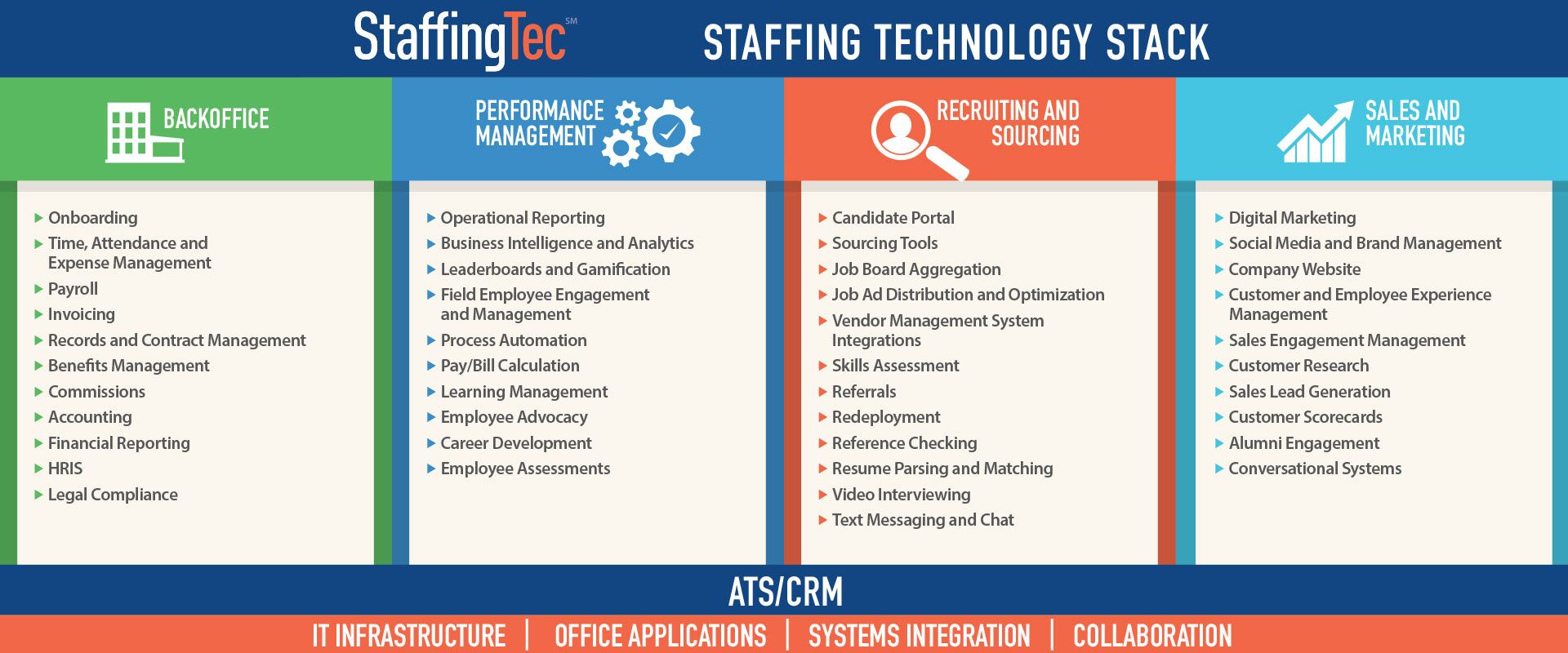 The Future of Staffing Industry Technology is NOW
by Maurice Fuller, Founder & President of StaffingTec
If you've heard me say it once, you're going to either love me or hate me for saying it time and time again—The future of staffing industry technology is here … now.
A decade ago, most staffing firms relied a handful of technologies – such as their ATS – to run their staffing firms. Since then, staffing industry technology has evolved way beyond just the ATS and will only continue to accelerate. The next decade will bring more technological change to the staffing industry than the previous 25 years. Staffing firms should be acting now, designing their future state staffing tech stack (link: https://nashville.staffingtec.com/#stack-alt) and adopting new technology at every opportunity to differentiate, grow faster and increase margins.
At StaffingTec it is our mission to help staffing firm leaders stay at the forefront of the technology trends that are revolutionizing our industry and help them discover the best technology solutions that are driving the highest ROI.
If you missed my recent StaffingTec TV presentation, What's Next in Staffing Technology: Navigating the Disruptive Technological Changes Ahead, you'll want to read on for insights into the top technology trends reshaping our industry.
Blockchain will make it a buyer's market
The businesses who will benefit the most from blockchain technology will be the largest consumers of staffing and recruiting services. Volume staffing services buyers are becoming savvy already on the promise of blockchain to drastically reduce sourcing and recruiting cycles while improving candidate QA. To protect themselves and their margins, staffing firms must look at ways to adopt blockchain technology across both front- and back-office processes.
AI and Staffing – evolution or revolution?
Artificial intelligence and machine learning are projected to become more than 1000 times more powerful by 2028! AI and machine learning are no longer discrete technologies that can be purchased to automate singular functions. They are technologies that are becoming pervasive throughout the staffing tech stack (link). That's why AI is one of the greatest threats to the status quo in the staffing industry.
Conversational systems, chat bots, and texting tech
Conversational systems including texting systems and chat bots are highly effective ways of engaging with candidates, hiring managers and field employees. Next generation conversational systems are evolving rapidly, yet, many staffing firms are not using conversational systems or are not taking full advantage of the wide ranging capabilities that conversational systems have to offer.
Sourcing tech to find better candidates faster
So many orders, so few candidates. With low unemployment, sourcing great candidates has been a huge challenge. Recruiters today have a wide range of sourcing technologies available to find better candidates faster.
Automation to speed operations and drive cost savings
The most successful and profitable staffing firms are becoming highly automated using a wide range of technologies. They are leveraging automation to offer differentiated services, speed operations and lower costs. A new breed of automation technologies is empowering front- and back-office employees to automate routine tasks and drive efficiencies into the business without needing to be a programmer.
Digital marketing innovation
Next generation staffing firms are generating a significant portion of their revenues from digital marketing sources. Digital marketing – including inbound marketing, content marketing, marketing automation and marketing analytics – is transforming how the best firms are attracting candidates and clients. Marketing and sales tech is becoming highly intertwined.
Sales automation tech for staffing
Until recently, sales execs have spent a tremendous amount of time performing low value activities to support sales processes. Today's modern, AI-infused sales automation technologies are enabling sales execs to spend more time engaging with qualified customers and less time on administrative tasks.
Improving the customer, contractor and candidate experience
Did you know that staffing firms with high customer, contractor and candidate satisfaction are growing faster than staffing firms with average or below average customer satisfaction? It has become widely known and accepted for more than a decade now that there is a direct correlation between customer satisfaction and revenue growth. New technologies emerging in the staffing industry are enabling staffing firms to measure, track and promote customer experience in real time. There is no need to wait for the semi-annual satisfaction survey or exit interview when it may be too late.
Grow revenues faster by optimizing everything for mobile
Is your staffing tech stack mobile optimized for candidates and field employees? If not, your firm is losing placements and leaving revenue on the table. Recruiters mostly use laptop computers to engage with candidates, while candidates engage with recruiters through mobile devices. But its not just about engaging with candidates how they wish to be engaged, it's about engaging with them in real time. Long before Uber decided to enter the staffing arena, a handful of leading technologies have been paving the way for the uberization of the staffing industry.
Recruitment marketing tech to attract more qualified candidates (This might change to backoffice tech)

Modern recruitment technology such as video jobs technology and programmatic advertising is enabling staffing firms to capture higher returns from recruitment advertising spend to maximize ROI. Modern recruitment marketing technology can help your firm engage more effectively with current and past candidates, and capture ever elusive referrals to fill more orders.
Predictive analytics, performance management and gamification tech
Gamification is one of the best methods for improving the performance of your staffing firm while lowering operational costs—without having to adopt and integrate a lot of new technology. Yes, I said it, without having to adopt and integrate a lot of new technology. With a few simple steps, staffing firms can implement gamification across their sourcing and recruiting operations and watch performance, job satisfaction and productivity shy rocket.
Phone interview technology
You heard right—everything old is new again with phone interview technology. Now, your recruiters can up their candidate interview and presentation game. Phone interview technology enables recruiters up do what they do best, build relationships and sell great candidates. Phone interview technology eliminates risk and uncertainty of human interpretation and provides hiring managers with direct access to candidate responses to interview questions. Staffing firms can also leverage phone interview technology to boost their recruiters' performance. Many years ago, I had the pleasure of working with one of the best recruiters I have ever met. When I asked him how he got so good, he replied, "I record every interview and listen back to how I could improve what I do."  
Technology is the future of our industry. What I touched upon in this blog is just the very tip of the iceberg. I hope you'll join more than 300 of your peers in Nashville at the upcoming StaffingTec Conference & Blockchain Summit. At StaffingTec, you'll learn about the entire staffing technology landscape and emerging trends reshaping our business. You'll learn best practices from both experts and peers, and experience solutions that are driving the highest ROI. Learn more at nashville.staffingtec.com.